HMRC have issued a new warning for consumers to be extra vigilant in January as the number of scams increases. January is being targeted by criminals because the date for filing self-assessment returns is due on 31st January.
This year it seems that the risk is even higher because of the number of incomplete submissions. So far HMRC advises that only 6.6 million submissions have been filed out of 12 million due meaning 5.4 million are still sue. The submissions are due from small business and the self-employed, many of whom have suffered particularly badly during the pandemic.
The current scam is text based, claiming to offer a tax rebate and promoting a link in the text. As we've highlighted before in our previous articles warning about scams one of the giveaways is the hyperlink address. In this case the link is to rebateform-apply.com this is clearly not a HMRC web address. (see below for a screenshot of the text)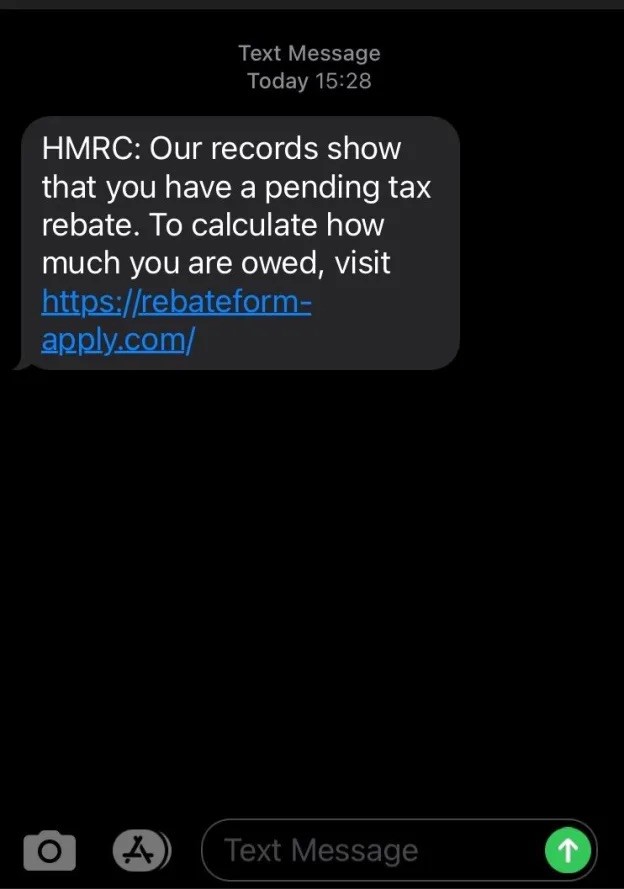 HMRC confirm that they will never ask for any personal details y text or through an e mail. If they need to engage with you they will always write a letter to you first. Never respond to any texts or emails, especially when you are not expecting to hear from HMRC.
This advice works for your banks as well when adopting a safety-first approach. Work on the premise that your bank will always write to you if they need you to get in touch with them.
On a separate note, the FCA have been conducting surveys of financial adviser firms through 2020 to try to measure the effects of lockdown on the industry. They have just released some information suggesting that up to 4000 private pension advice firms may be at risk as a result of lockdown. When you look at the figures more closely however, what they actually mean is that a significant number of firms are reporting that their profits will be lower as a result of the lockdowns, NOT that they are at risk financially.
Just for the record, here at Christina Clegg Financial Planning Services we have remained incredibly busy throughout 2020 dealing with our existing clients but also a remarkable number of new clients. (After all people are still retiring and need private pension advice). Our turnover has increased, we have hired new staff and our financial position has never been more secure – so you can have total peace of mind.